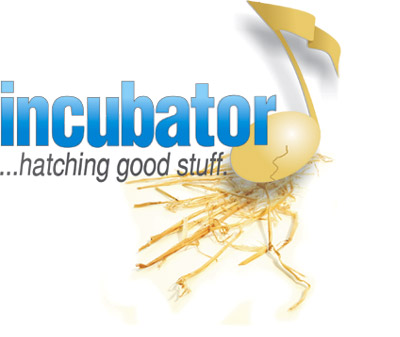 Nurturing your early stage music ministry to the thriving level!
Incubator Records is a market definition record label of Incubator Creative Group, Christian music's only established music ministry incubator organization.
CLICK HERE for the Incubator Creative Group website.
Here's what a few Incubator
artists have to say…
"I looked into what Incubator was all about and couldn't believe how perfectly it seemed to fit with my dreams. I wanted my life to make a huge difference through this vocation. I wanted the music I'd create and perform to be much more than just a bunch of random songs and hopes that the Lord would work. At my core, I wanted to be a missionary with my music ... have a strategic, powerful, and long lasting music ministry. I didn't just want to be the 'average Joe' when it comes to the industry, produce a recording or two, etc. I wanted my life to make a profound difference to those hurting in the church. I wanted to be something refreshingly different. And that's what God's been doing with me from the moment I met Incubator. I can see now that dream of reaching and powerfully impacting a vast number of people is indeed possible because of the depth and focus Incubator's given me. Following this calling in my life with Incubator Records has been one of the best decisions I could have ever made."
Judy Deans
Incubator Roster Artist
"Many people dream of having a recording career, but only a few are serious about birthing a ministry. Initially, I saw Incubator as a company that was going against the norm in the music industry by being artist-oriented versus product-oriented. Based on my knowledge in the music field, this was unheard of. I wanted to become a part of such a move of God. My prayers were answered and I was released to sign with Incubator. I was amazed after joining the family. Incubator was much more than they described. They could easily describe their approach as a mentoring program. It is done with care and support that is designed to take you to the next level."
Frank Berry
Incubator Roster Artist
"I have loved every moment that I have worked with Incubator. Not that each moment has been easy, but even when I feel like banging my head against the wall, I have worked with them long enough to know that they are really good at what they do, and they truly are stretching me into an amazing artist. From vocal coaching to songwriting to small business management to communication, Incubator has been a phenomenal source of information and encouragement. I truly feel like I can tell them anything, and they will love and support me wholeheartedly. Even better, Incubator has taught me so much about my relationship with Christ. My walk with Jesus has never been more vibrant. That, in itself, has been worth every moment of work I've put in. I adore Incubator and I have seen firsthand that they are seekers after God's heart. If the Lord is willing, and they can put up with me, I plan to be with them for a long, long time!"
Tara Johnson
Incubator Roster Artist